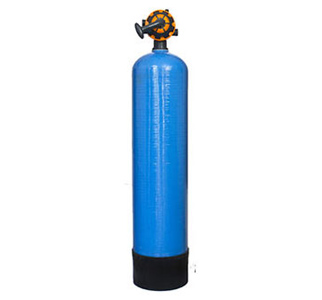 Aquasoft Centralised Water Softener
High Capacity Resins
Low Maintenance
Easy installation and Operation
What is hard water and how it is caused ?
Water containing excessive salts such as Calcium and Magnesium is hard water. It is caused by water flowing over rock formations which contain excessive deposits of these salts. Hard water forms an insoluble scum with soap and detergents. This sum, though not highly visible, appears on bathroom tiles & Sanitary fixtures, clings to hair, and clogs the skin pores, and makes home cleaning difficult. It also clogs the pipes through scaling. Many modern household gadgets are damaged by hard water, namely, coffee percolators, geysers, washing machines, steam irons and solar water heaters. Hard water is found in many bore wells and some open wells.
AquaSoft eliminates the salts responsible for hardness from the water, namely Calcium and Magnesium. In the softener there are millions of tiny polymer beads (resin) which carry a Sodium ion charge. As the water flows over this resin, the Sodium ion thereby softening the water. Sodium is extremely soluble in water and does not precipitate on heating, thus eliminating all the problems associated with hard water. When all the Sodium ions have been extracted by the hard water, the resin is regenerated by washing it in a concentrated salt solution (brine). This allows the AquaSoft Water Softener to be used again and again. (The process of washing the resin in a concentrated solution of brine is called regeneration).
Features
Easy installation and Operation
Low Maintenance
High Capacity Resins
Consistent Treated Water Quality
Wide Range of sizes to choose
Models
30Lts, 50Lts, 80Lts, 100Lts, 150Lts, 180Lts, 250Lts, 310Lts, 450Lts, 700Lts, 1000Lts
HELPLINE NUMBERS
Mr Anto : Mahadevapura, Kundalahalli, Hope Farm, Whitefield, Marathalli, Varthur, Mobile:- +91 9538885320

Mr Satish : Silk Board, HSR L/o, Sarjapura Road, Bellandur outer Ring road, Electronic City, Hosur, Koramangala, Begur, Bommasandra Indl Area, Huskur Road, Hosur Road, Anekal Mobile :- +91 9538885314

Mr Manjunath : Banashankari, Giri Nagar, Jayanagar, JP Nagar, BTM, Kanakapura Road,.Chamarajpet, Majastic, Malleswaram, Basavangudi, Gottigere, Bannerghatta Road, Mobile:- +91 9538885315

Mr John : Benniganahalli, KR Puram, Virgo Nagar, Kannamangala, Kadugodi, Budhigere, Hoskote, Domlur, Indiranagar HAL, Old Airport Road, Murugesh playa. Mobile :-9538682207
Mr Murali :RT Nagar, Sahakar Nagar, RMV, New BEL Road, Vidyaranyapura, Hebbal, Peenya, Yeshwanthpur, Tumkur Road, Sanjay Nagar. HRBR Laout, Kalyan Nagar, Yelahanka, Devanahalli, Bagalur, New Airport Road, Nandi Hills, Nagawar Palya, Kagdaspura, CV Raman Nagar, New Thippasandra. Mobile:- +91 9538885329

Mr Santhosh : Basaveshwar Nagar, Rajaji Nagar, Mysore Road, R R Nagar, Kengeri, Nagarbhavi, Vijaynagar, Magadi Road,Shivaji Nagar,Kothnur, Hennur Banaswadi, Ramamurthy Nagar,Bangalore Central, Frazer Town, Richmond Town, Wilson Garden Mobile :- +91 9538885321


Quick Contact Form!!
(Only for Bengaluru residents)