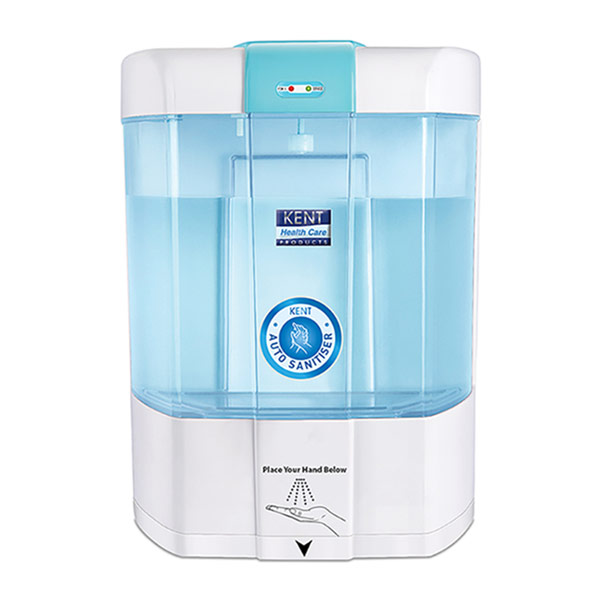 kent auto sanitiser
Compact design with in-built smart infrared sensor and lockable tank
Product Details
Product Specifications
Product Reviews
Now, maintain your hands hygiene with easily accessible KENT's Auto Sanitiser. The Touchless operation of KENT Auto Sanitiser helps you reduce the chances of getting infected by cross-contamination on daily basis. Best suited for factories, offices, hospitals, malls, railways, shops and homes.
Smart Design
Designed as wall-mounted, the smart and elegant KENT Auto Sanitiser keeps your counter surface clutter-free. It comes with a transparent and detachable tank that can be easily removed, cleaned, and refilled anytime, without the help of a technician.
Go Handsfree/ Automatic Sanitiser Dispensing
Equipped with in-built infrared smart sensor, KENT Auto Sanitiser automatically senses your hands as you put below the device and dispenses the amount of liquid sanitiser you require. Also, one can adjust the volume of the liquid Sanitiser to be used.
High Storage Capacity
KENT Auto Sanitiser tank comes with a high storage capacity of 12 litres to ensure that no one goes without sanitising their hands, especially in the crowded areas like malls, shops, offices etc.
Ensures Safety with Lockable Tank
To facilitate smooth usage of the Sanitiser, this device comes with lockable tank to remove all the possibilities of theft or pilferage.
Works Indoors and Outdoors
Made with premium ABS plastic, this unique and innovative device takes up very little space making it ideal for indoor and outdoor usage. Whether place it in bathroom or Kitchen, or use in offices, shops, etc., you can always ensure optimal hygiene for your loved ones.
Quick Contact Form!!
(Only for Bengaluru residents)