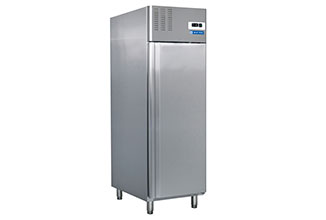 Reach-in Chillers and Freezers
Easy Storage meets accurate temperature control.
Product Details
Product Specifications
Product Reviews
Blue Star's range of Reach-in Chillers and Freezers are designed specially for commercial kitchen needs. They are the most convenient way of preserving food. The upright cabinet ensures easy storage. And an electronic panel ensures proper temperature control.
Overall, Reach-in Chillers and Freezers keep food fresh and preserve it for longer. Just what you would expect from the experts in cooling.
Features
Rounded corners
Eco-friendly refrigerant
Odourless operation due to continuous air circulation
Auto defrost
Removable gasket for easy clean
Adjustable tray slides
Food grade stainless steel unit
Uniform cooling by forced air circulation
Tropicalised for high ambient temperatures
Self closing doors
Food grade stainless steel SS304
Copper condenser for long life
Digital display controller on door
Capacities - 640 L & 1390 L
Quick Contact Form!!
(Only for Bengaluru residents)