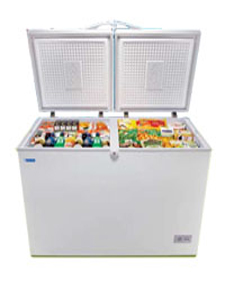 Blue Star Cooler cum Freezer
Highly energy-efficient compressor
Robust construction for heavy duty use
High density PUF insulation for better holding time
Product Details
Product Specifications
The Blue Star Cooler-cum-Freezer is ideal for your business. With two-in-one capabilities of being able to store frozen and chilled products at the same time, it allows you to sell a diverse range of products. It saves space since it combines two machines in one. It is also cost-effective as it lowers capital investment and operating costs. The Blue Star Cooler-cum-Freezer takes care of your Customer's needs as well as yours!.
Features
Dual compartment machine configured as freezer in one and cooler in the other
Two separate lids ensure independent access to Freezer and Cooler chambers
Easy to clean and maintain hygiene
Excellent drain design
Versatile wheels for easy movement and placement of unit
High density PUF insulation for better holding time
Highly energy-efficient compressor
Quick Contact Form!!
(Only for Bengaluru residents)