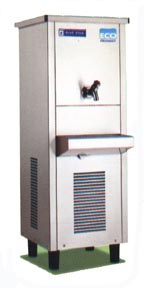 Blue star water coolers
Pure, cool goodness in every drop
Water Coolers with inbuilt Aquaguard RO Purification
Now enjoy cold drinking water that is 100% pure too!
Product Details
Product Specifications
Product Reviews
Latest range of water coolers have new-age eco-friendly refrigerants. These water coolers cool surprisingly fast. Thanks to a powerful and rugged compressor. An all stainless steel body with power saving insulation and a comprehensive warranty, it's value for money. You get not just cold water, but also a healthy environment, for years to come. The combination of Alfaa Water purifier with the Bluestar range ensures not just chilled water but purified chilled water....an unbeatable combination.
Features
Faster cooling
Lower power consumption
High throughput
Longer life
Contamination-free storage
Cold water even through power cuts
Space saving
Reliability
Ease of service
Quick Contact Form!!
(Only for Bengaluru residents)