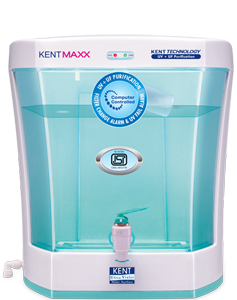 Kent Maxx Water Purifier
Fully automatic UV purifier with storage tank
Detachable tank for easy on – site cleaning on regular basis
Push – fit components for leak proof performance
Product Details
Product Specifications
Product Reviews
KENT Maxx is India's only UV water purifier with storage tank. It is suitable for wall mounting or table-top installation, providing users with a choice to install it as per their requirement. It has a transparent and detachable storage tank, which ensures easy on-site cleaning. The tank can be easily removed and cleaned without the help of a technician. Also the transparent tank makes the purifier visually appealing.
Features
Fully automatic UV purifier with storage tank
Double Purification by UV & UF removes even dead bacteria from purified water
High powered 11 Watt UV Lamp
Computer Controlled Operation with Filter Change Alarm & UV Fail Alarm
After a pre-set time, Filter Change Alarm is audible which indicates time to replace the filters. If filters are not changed within next 60 hours of use, the purifier stops functioning, to avoid the possibility of impure water delivery
In case the UV stops functioning, UV Fail Alarm is audible. The purifier does not function until the UV lamp is replaced to ensure the delivery of only 100% pure water
Detachable tank for easy on – site cleaning on regular basis
LED indicator for power and purification display
Push – fit components for leak – proof performance
Food grade, non – breakable, transparent ABS plastic construction
7 Litre storage capacity
Suitable for low TDS water
Quick Contact Form!!
(Only for Bengaluru residents)