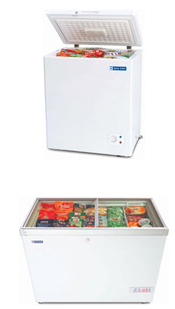 Blue Star Deep Freezers
Tropicalised for high ambient temperatures
Cut power bills through energy-saving innovations
High energy-efficient compressor
3 Years Compressor Warranty(On Offline Purchase)
Product Details
Product Specifications
Product Reviews
Blue Star Deep Freezers are just what you need to ensure a smoothly running business. They are built in such a way that interior temperature is maintained without electricity for as long as 10 hours. So the perishables won't spoil, even if there's a power failure.What's more, they use less electricity and help you save on your power bills.
Features
Robust construction for heavy duty use
Corrosion resistant body
Tropicalised for high ambient temperatures
Locks in all models
High density PUF insulation for better holding time
High energy-efficient compressor
Warranty
3 Years Compressor Warranty(On Offline Purchase)
Quick Contact Form!!
(Only for Bengaluru residents)