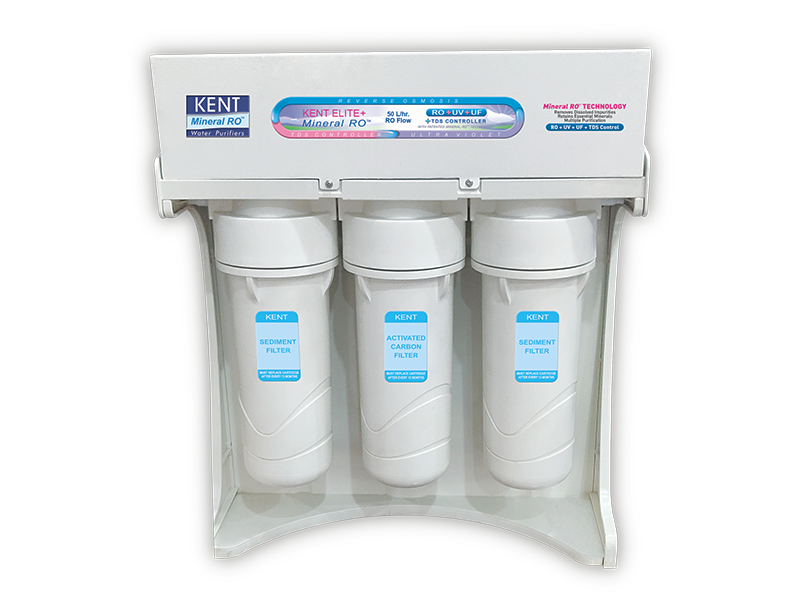 Kent Elite Water Purifier
Suitable for Institutions, Offices, Hotels, Factory, etc
LED indicators for power and purification process display
Fully automatic operation with auto-start and auto-off
Built-in SMPS to operate within 160-300V AC voltage
Product Details
Product Specifications
Product Reviews
An advanced over the counter purification with KENT's patented Mineral RO TM Technology and an inbuilt TDS controller best suited for commercial establishments like offices, restaurants and factories. With an ABS construction for corrosion free life span and in-built auto-flushing system, Elite+ will take total care of your health and well-being. It is suitable for purification of brackish/tap water/municipal corporation water supply.
Features
Double Purification by RO & UF with TDS controller
Secondary purification by UF after RO ensures enhanced water quality throughout service cycles
Patented TDS Control System retains essential natural minerals in purified water
Spin-welded RO Membrane Housing to prevent tampering
LED indicators for power and purification process display
Fully automatic operation with auto-start and auto-off
Built-in SMPS to operate within 160-300V AC voltage
Push fit components for leak-proof performance
ABS construction for corrosion free lifespan
Suitable for raw water from all types of sources like borewell, overhead storage tanks, water tankers and even municipal taps.
Quick Contact Form!!
(Only for Bengaluru residents)