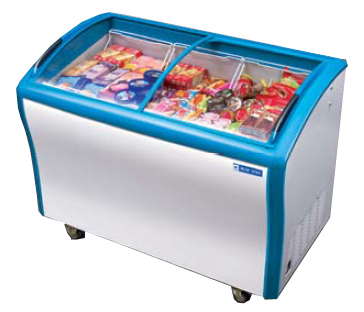 Blue Star Glass Top Chest Freezer
Highly energy-efficient compressor
Robust construction for heavy duty use
High density PUF insulation for better holding time
Product Details
Product Specifications
Glass - Top Chest Freezers offer economical freezing, storage and display solutions, all at the same time. Aesthetically crafted, they turn an ordinary display into a striking one. They are ideal for both small stores as well as modern-day large format departmental stores, and for use in parlours and eateries. The sides can be custom-branded to suit any particular product or company.
With lower power consumption, these freezers present perfect solutions that save money as well. Better insulation technology makes them ideal for sub-continental climates like ours. The easy to slide glass doors also make it easy for customers themselves to use the freezer. Overall, it is a smart choice for the smart retailer!
Features
Robust construction for heavy duty use
Easy-slide glass door
Corrosion resistant body
Tropicalised for high ambient temperatures
Locks in all models
High density PUF insulation for better holding time
Highly energy-efficient compressor
Quick Contact Form!!
(Only for Bengaluru residents)