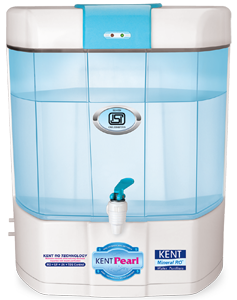 Kent Pearl Water Purifier
Elegant wall mountable/ counter-top design
Double purification RO + UF + TDS Controller
Removes even dissolved impurities
Product Details
Product Specifications
Product Reviews
KENT Pearl has a modular design, which is suitable for wall mounting or counter-top installation, providing users with a choice to install it as per their requirement. It has a transparent and detachable storage tank, which ensures easy on-site cleaning. The tank can be easily removed and cleaned without the help of a technician. Also the transparent tank makes the purifier visually appealing.
Features
Double purification by RO + UV + UF with TDS controller
Removes even dissolved impurities while retaining Essential Minerals
Elegant wall mountable/ counter-top design
Equally suitable for water from all sources such as bore-wells, tanks or tap-water
Purified water storage capacity of 8 litres with detachable storage tank
Incorporates Filmtec RO membrane, the most trusted RO membrane brand in the world
Quick Contact Form!!
(Only for Bengaluru residents)