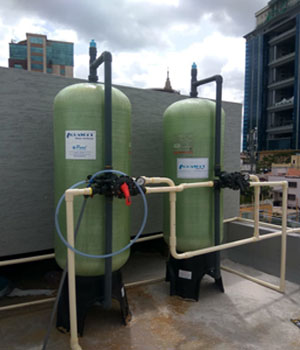 Aquasoft Centralised Water Softener
We have More than 650 Centeralised Softeners Installed in Bengaluru

Features :

High Capacity Resins
Low Maintenance
Easy installation and Operation
Pure water house has rich experience in centralised water purification or whole house water purification for apartment complexes and homes.
If you get borewell water, chances are the salt content is high. This could also mean hard water.
Hard water damages Solar Heaters,Geysers, Washing Machines, leaves bathrooms looking soiled with white residues, may cause hair fall, etc. Our water softeners help prevent such damage, and improve the taste of water.
FREE TESTING AND SIZING
Call us to test your water, size your equipment and provide you witha Centerilised Water Filters and Water Softener. This will be accompanied with an end-point water purification through Kent RO. You will get the best configuration of product, economical pricing accurate information and excellent after-sales service.
What is hard water and how it is caused ?
Water containing excessive salts such as Calcium and Magnesium is hard water. It is caused by water flowing over rock formations which contain excessive deposits of these salts. Hard water forms an insoluble scum with soap and detergents. This sum, though not highly visible, appears on bathroom tiles & Sanitary fixtures, clings to hair, and clogs the skin pores, and makes home cleaning difficult. It also clogs the pipes through scaling. Many modern household gadgets are damaged by hard water, namely, coffee percolators, geysers, washing machines, steam irons and solar water heaters. Hard water is found in many bore wells and some open wells.
AquaSoft eliminates the salts responsible for hardness from the water, namely Calcium and Magnesium. In the softener there are millions of tiny polymer beads (resin) which carry a Sodium ion charge. As the water flows over this resin, the Sodium ion thereby softening the water. Sodium is extremely soluble in water and does not precipitate on heating, thus eliminating all the problems associated with hard water. When all the Sodium ions have been extracted by the hard water, the resin is regenerated by washing it in a concentrated salt solution (brine). This allows the AquaSoft Water Softener to be used repeatedly for 3years after which the resin needs to be replaced.. (The process of washing the resin in a concentrated solution of brine is called regeneration).
Features
Easy installation and Operation
Low Maintenance
High Capacity Resins
Consistent Treated Water Quality
Wide Range of sizes to choose
Models
30Lts, 50Lts, 80Lts, 100Lts, 150Lts, 180Lts, 250Lts, 310Lts, 450Lts, 700Lts, 1000Lts
Quick Contact Form!!
(Only for Bengaluru residents)